We look forward to welcoming you to the Home of Cricket for what we are sure will be a fantastic experience for all.
We want your stay at Lord's to be special, so please read the following important information regarding your visit.
Match times
We encourage spectators to arrive early to avoid crowds and allow plenty of time to be seated before play begins.
1:00 p.m. Doors open – please use the door indicated on your ticket.
2:30 p.m. Scheduled game start
5:15 p.m. Closing of the game planned
Remember that Lord's is in a residential area, so leave quietly and be respectful to those who live near us.
Security
You can expect to be searched upon entering the grounds. Please follow the advice given by our stewards and security personnel. We suggest bringing only essential items with you or leaving bags at home if possible.
Help the Lord stay safe by staying vigilant; if something is wrong, tell a steward.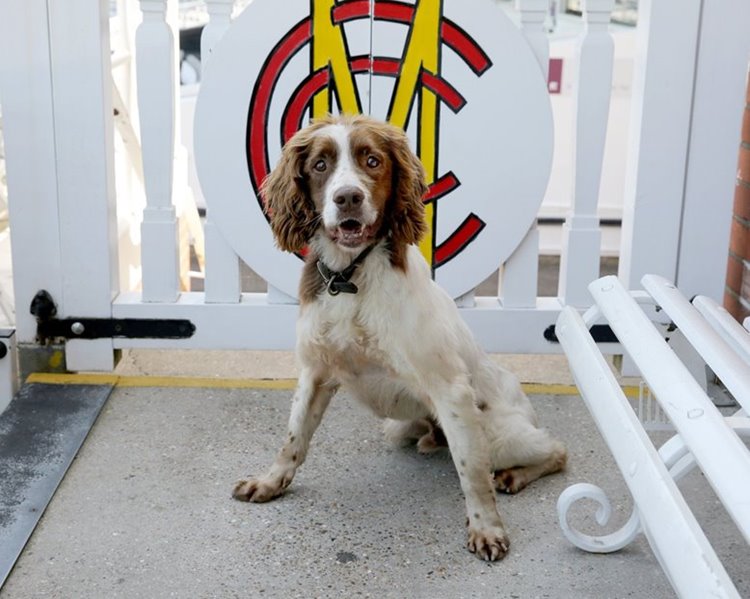 What to bring
Your e-ticket (electronic on your mobile or printed)

Your debit/credit card or mobile device allowing payment

A water bottle to fill, sunscreen and an umbrella

Food and drink – you can bring your own food but alcoholic beverages are not allowed in the ground. See what you can bring here.
INCIDENTS
We want the Lord to be a ground for all. Please treat everyone equally and with kindness. To report a problem or concern, including inappropriate or anti-social behavior, please alert a steward first.
You can also text 07401 056737 and provide details of the incident and your location in the ground.
Alternatively, to provide feedback or report issues, please complete our customer report form.
We oppose discrimination in all its forms and are committed to ensuring that MCC and Lord's are welcome for all.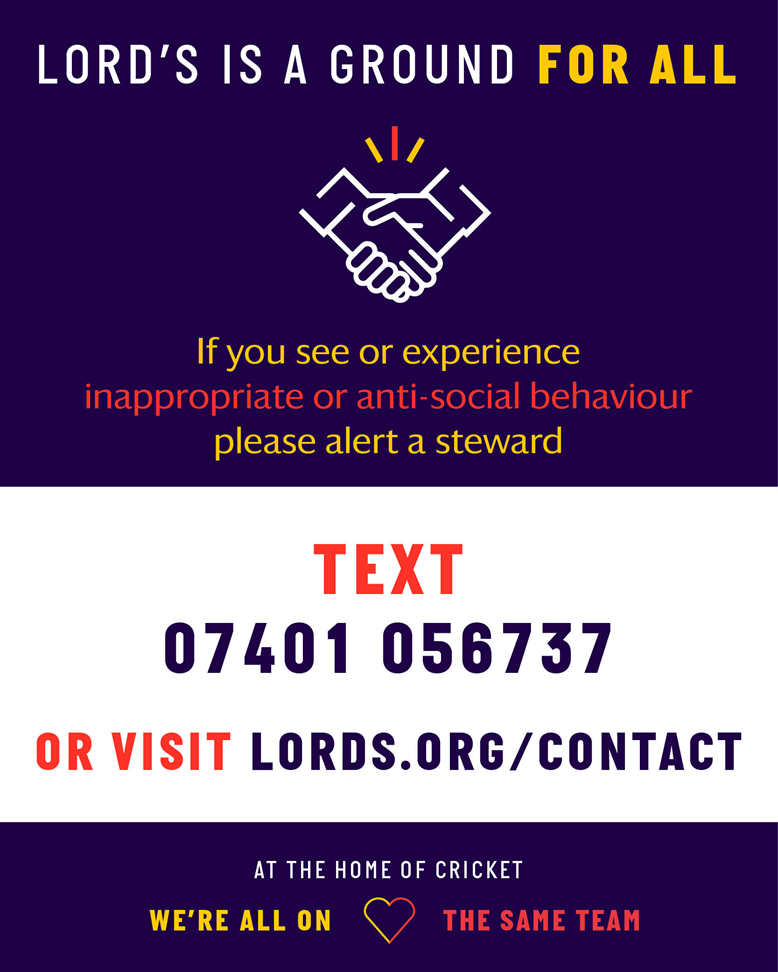 The Lord's App
Introducing The Lord's app – your home cricket match day companion.
Access and share your tickets from your phone, order food and drinks from your seat and keep up to date with everything happening around the Ground.
Download Andriod Download IOS
Food and drink outlets
Good food and drink is synonymous with cricket, and we have a variety of top quality fresh food available around the Ground.
A range of specialty outlets cater to all tastes and requirements, including vegan and halal options.
We have also established partnerships with some major beverage brands, including Widow Clicquotwhose champagne bar will be back this year, as well as Marston's which will deliver Hobgoblin Session IPA through the floor. Our new partner, At Hendrick's has specialty bars if a refreshing gin is more to your taste.
Please note that for Vitality Blast and The Hundred matches, alcohol may only be brought to Lord's by MCC and Middlesex members and their guests, and by debenture holders and their guests. General Admission ticket holders are not permitted to bring alcohol into the ground.
Please note that the bars will stop serving alcohol at 9:00 p.m.
For more information on food and drink at The Ground, please click here.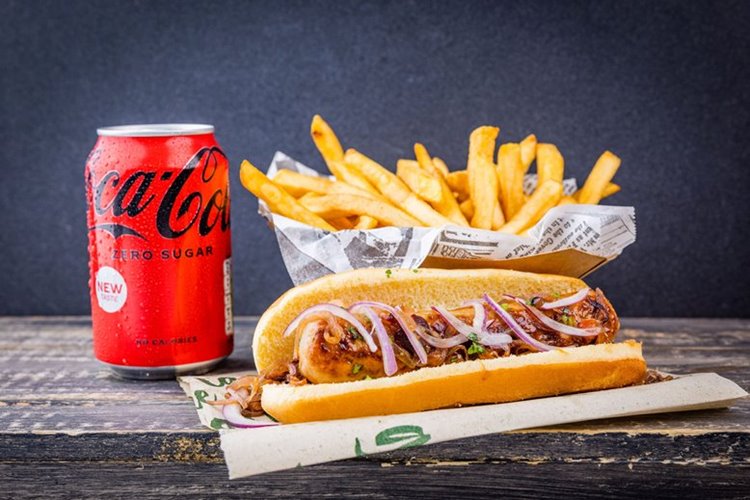 reusable cups and water refill
All alcoholic beverages are provided in reusable cups with a £1 deposit. Please bring your used mug back to a bar and receive a new mug with your next drink.
At the end of the day, simply return your mug(s) to one of our designated refund bars to receive your deposit.
Help us by returning your used cup or putting it in the recycling bins at the exits instead of putting it in the household garbage or recycling.
Since switching to reusable cups, we've saved over 1.5 million single-use plastic cups from ending up in landfill.
Please use the water refill points around the grounds to refill your bottles.
Lord's is cashless
Lord's will apply a card only policy in our bars, restaurants and shops. Debit/credit card payments and mobile payments such as Apple Pay and Google Pay are accepted at all Ground checkouts.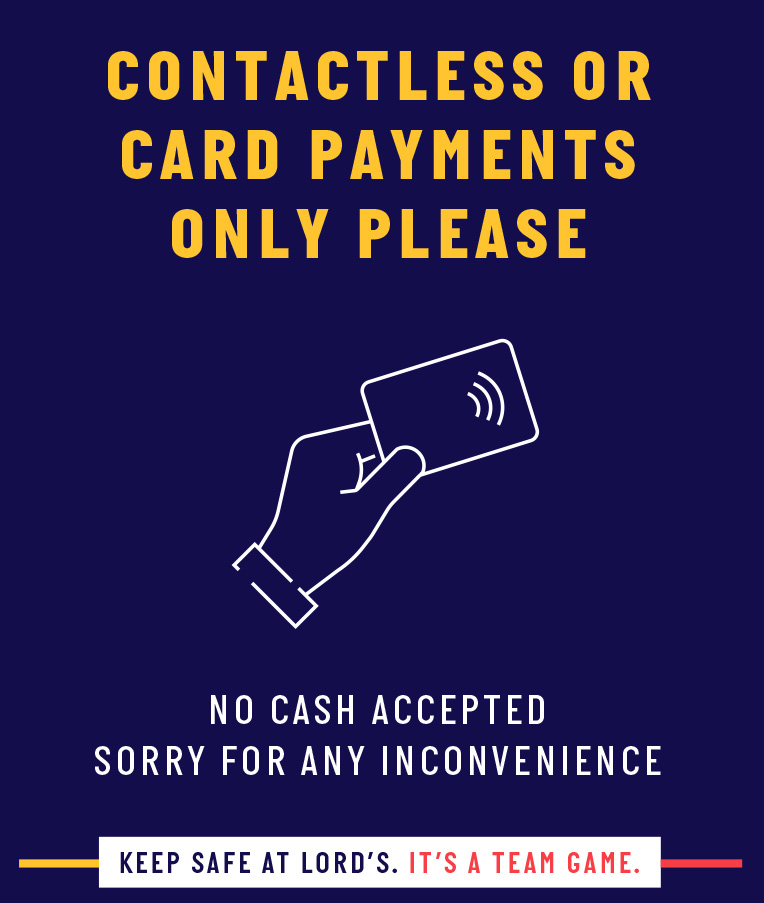 Travel
St John's Wood is the nearest tube station and just over a five minute walk away. However, it can get busy on match days and fans are also encouraged to use Baker Street or Marylebone stations (a 10-15 minute walk away).
Learn more
We strongly advise you to visit Transport for London to plan your trip in advance.
If you plan to come to Lord's by car, please note that there are restrictions on parking in the non-resident car park on weekends as well as on weekdays in the immediate vicinity of Lord's.
More information on where to park near the pitch is available on the FAQs section of this site, including details on how to pre-book into parking near Lord's.
Lord's Tavern
The Tavern the pub is open from 11 a.m. to 11 p.m.
To book a table, please call 02076168689 or email [email protected]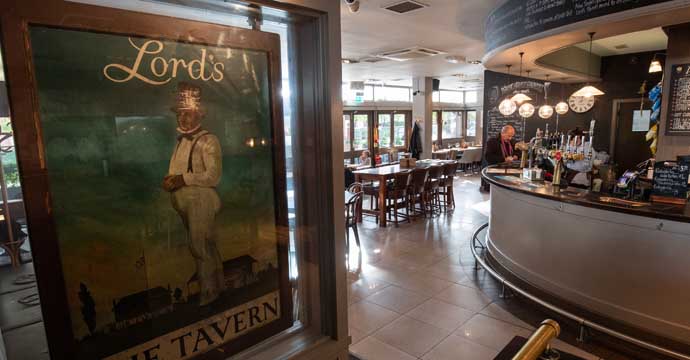 Shops and Dashboards
Scorecards are available free of charge in front of the shops on the pitch.
The Middlesex & MCC Members Shop is located behind the Pavilion, next to Harris Gardens, offering a range of shopping options. Retail stores carry a range of Lord's Day gifts, souvenirs and essentials. The new Lord's clothing range is also now available.
Shops will close 30 minutes after the game ends today. The full line of merchandise can also be viewed online at store.lords.org and MCC via mccstore.lords.org.
Lord's Father Time Wall
Lord's Father Time Wall is located between the Grand and Compton stands and celebrates 100 of the greatest milestones ever achieved at the Home of Cricket. Fans around the world can be a part of history by purchasing a personalized plaque to commemorate their own important memories at Lord's.
Please visit the wall and talk to our knowledgeable guides who can tell you the stories behind some of the amazing steps listed.
5% of every sale goes to help the MCC Foundation develop the game of cricket in the UK and overseas.
FAQs
If you have any questions, please visit the FAQs section of the site for more information.
We look forward to welcoming you to Lord's.