Dr. Michelle Kent was still an intern at medical school when she met a patient who would change the course of her life, a firefighter who was about to retire. He made a strange request: could she help him gather information about when he developed cancer? Although he was healthy at the time, in his mind it was not a question of if, but when, he would get the disease. "I had no idea what he was talking about," she recalled. "He said, 'Let me provide you with some health risk information for firefighters and first responders. ""
He did, and what Kent found was telling. Cancer is one of the leading causes of death among firefighters. Many other medical conditions such as heart and respiratory disease, certain infectious diseases, and post-traumatic stress disorder (PTSD) are considered occupational conditions for the profession. Running headfirst into a burning building is perhaps the most obvious danger facing firefighters, but long-term and repeated exposure to burning materials and chemicals, coupled with stress, trauma and demanding working conditions, is what really weighs on firefighters.
The information was a game-changer for Kent, who has since developed a career focused on caring for those on the frontlines. For the past two years, Kent has served as a primary care naturopathic physician at Olympia's Heart of Wellness. Of its more than 300 patients, between 60% and 80% are first responders and family members. She takes care of nearly 80% of the Central Piece Fire & Rescue team, including their administrators. To better understand the stressors and traumas they face, she accompanies firefighters and paramedics during their shifts.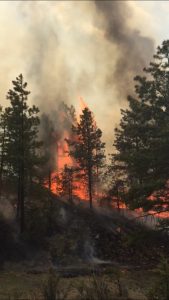 "These people do 24 to 72 hour shifts," she says. "They entered this profession because they wanted to help, but they face repetitive trauma in their work and then they are expected to go straight back to the job and continue. How long do they have to process this trauma? »
How each first responder copes is individual, she notes. As trauma and stress build up, some resort to heavy drinking, heavy smoking or cannabis, and others distract themselves by keeping busy or taking side jobs. , exhausting himself in the process. "Their families are also largely affected," Kent says. "When someone comes home after a 72-hour shift, they often want to disengage, they don't want to be asked questions and often want to be left alone. It's not ideal for family life, so we look for ways to decompress and develop healthy coping mechanisms and habits.
Kent keeps a modified Detroit schedule (a template schedule for the fire department) on his back wall and consults it before appointments to understand his patient's condition. "As each firefighter comes by, I ask them what position they're from and what shift they're on," she says. "It tells me if they're feeling like a zombie because they just finished a 48-hour shift or if they have some energy because they're on a break."
The first responder community tends to be tight-knit and protective of each other, with an understanding based on shared experience. In the field, they must make quick assessments and communicate effectively, a model replicated by Kent. "I'm direct with them," she says. "I tell them, 'This is what you have to look at and this is what you have to do.' Then I give them tools.
While some doctors might start with pharmaceuticals to treat PTSD and other issues, Kent and his colleagues at Heart of Wellness take a holistic approach that includes mindfulness and self-awareness. It includes breathing techniques to slow heart rate and lower blood pressure, even under the most stressful circumstances. Kent also offers methods to check if the basic needs of first responders are being met. "How do you engage with the world around you? " she asks. "Did you eat, did you drink, did you sleep? We put everything in place and compose everything.
The results have been so positive that some first responders prefer to work exclusively with Dr. Kent. Often a firefighter will share their experience with the rest of the firehouse and soon they will all be scheduling appointments, including some from as far away as Snohomish County.
Kent connects them with his colleagues at Heart of Wellness who offer physical therapy, massage therapy, nutritional and herbal remedies. "We sit down with these patients and listen to them," she explains. "We have to find out who they are as individuals and then we open our toolbox and follow the path they need. What we can do here is profound.
Although the majority of Kent's patients are first responders, she also treats other patients.
Rather than narrowing its scope, working with firefighters and paramedics has broadened its ability to serve everyone. "It doesn't cause me to not be able to help the general public," she says. "In fact, it opens doors. Working with the first responder community has made me much more empathetic and ready to deal with any situation. They keep me on my toes.
Since that first patient opened his eyes to the medical repercussions of frontline work, Kent has been thinking of ways to better care for caregivers. "For the general public, we know what it means to receive essential services from first responders," she says, "but what does it mean for the community that provides those services to us? They do it voluntarily, with heart, integrity and empathy and it poses a risk to their health. They are heroes without capes, and Heart of Wellness is here to help them.
To learn more, visit the Heart of Wellness website or call 360.570.0401.
Sponsored