Catch Beach House, Seasalter Home, Kent Residence, English Architecture, Housing Project
June 28, 2022
Architects: Stiff + Trevillion
Location: Seasalter, Kent, England, United Kingdom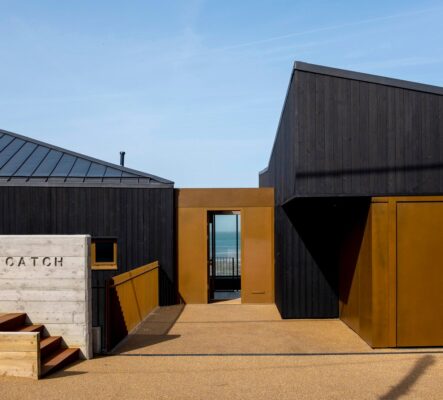 Photos: Lukasz Bernacki
Catch Beach House, Kent
Situated outside Whitstable on the North Kent coast, the To catch house is inspired by traditional fisherman's huts and boathouses while referencing the indigenous materials and textures that populate this stretch of coastline.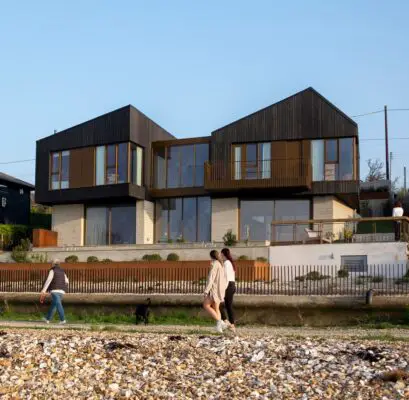 The upper level of the house is divided into two distinct, single-storey, wood-clad forms that help break up the mass of the building on a domestic scale and sit comfortably next to neighboring structures. The long "boathouse" element contains the garage and the master suite, the smaller "fisherman's cabin" structure contains other bedrooms and an office.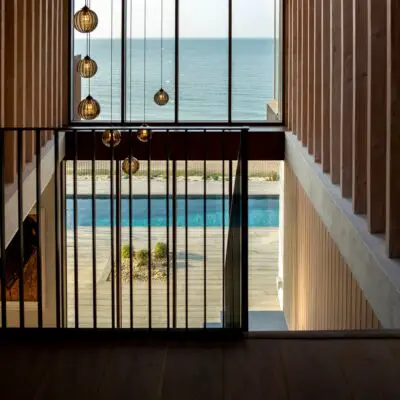 The orientation of the two wooden structures has been defined allowing stunning sea views from all rooms. The roofscape has a dynamic and asymmetrical form that reflects the ever-changing surface of the sea in the background and sets up the contemporary interpretation of a traditional and local architectural language. These two elements are connected by a connecting structure in Corten steel and glazing containing the entrance hall and the vertical circulation.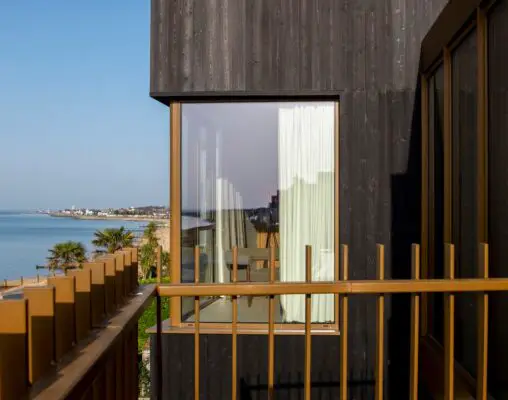 The house takes advantage of the sloping site with the upper floor elements cantilevered out to sea, visually separating them from the lower floor and creating overhanging protection from the natural elements.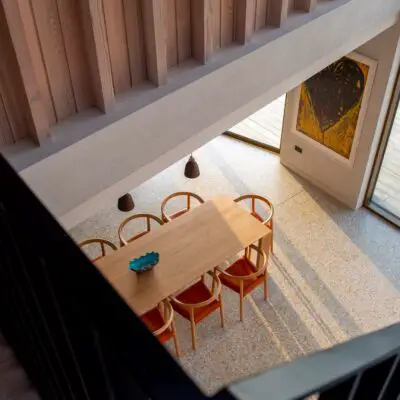 The lower floor reads as a solid plinth on the ground with roughly textured, in-situ, panel-formed concrete walls. This raw materiality echoes the low wooden beach breakers that run the length of the coastline in front. These deep concrete walls are punctuated by large openings that respond to the interior living spaces and the orientation of the rooms within.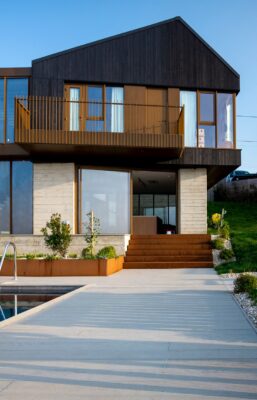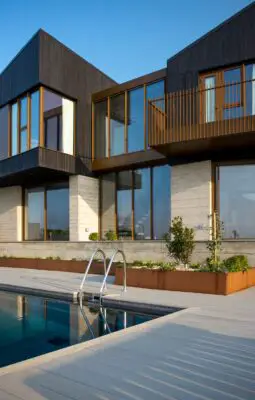 The lower level contains the main living areas, kitchen, dining room, reception and also houses a private guest suite, nestled on a courtyard away from the view of the beach and which acts as a tranquil exterior sheltered from the most extreme weather conditions.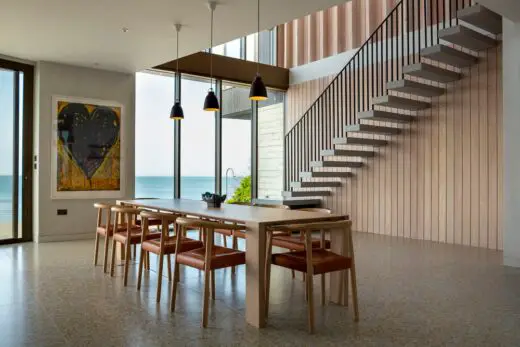 The sloping site has been cut into a sequence of terraces that descend from the access road at a high level to the seafront. A swimming pool sits between the house and the beach on the middle level of the site and offers breathtaking view of the bay.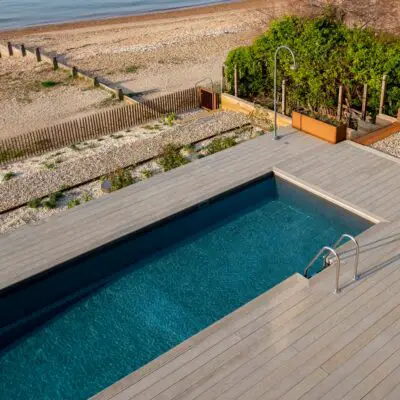 The simple palette of materials used in the house reflects the vernacular detailing of the area, with black wood cladding, in-situ concrete, Corten steel detailing for windows, doors and ironwork all coming together to produce an interpretation contemporary with the locally built context.
What was the brief?
To create a comfortable and stylish family home that would be sturdy enough for sandy feet and make the most of the plot's stunning location.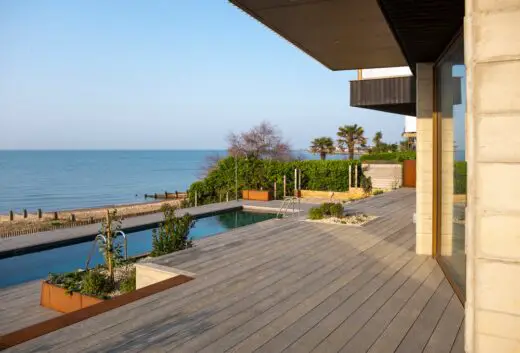 What were the main challenges?
The exposed site and access was only possible by using a very narrow road bridge that crossed a railway line. Covid didn't help much either!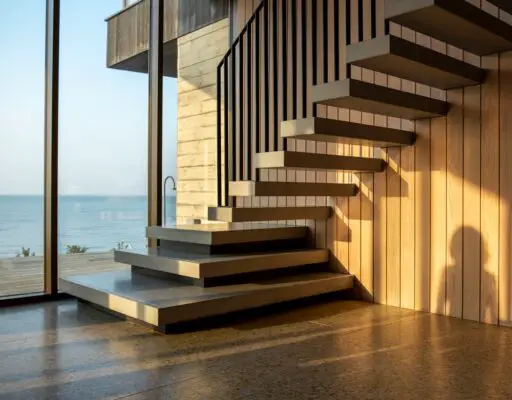 What were the solutions?
Patience!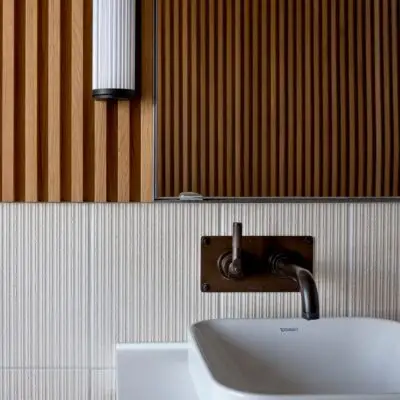 Who are the customers and what interests them?
This is the second project we have undertaken for these clients who had renovated their London home a few years earlier.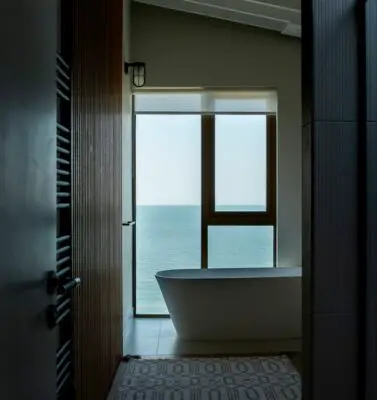 Catch Beach House in Kent, England – Building Information
Architects: Stiff + Trevillion – https://www.stiffandtrevillion.com/
Completion date: 2021
Building levels: 1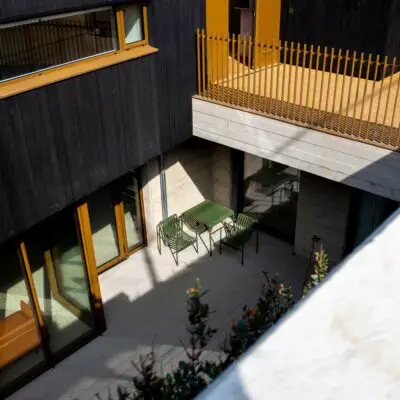 Photography: Lukasz Bernacki
Catch Beach House, Seasalter Kent pictures/information 280622
The Mitchell Building at Skinners' School, Kent – 2022 RIBA South East Award images/information received 040522
RIBA South East Awards
RIBA South East Awards Archive
2018 RIBA South East Award Winners
RIBA South East Awards 2018 Shortlist
RIBA South East Award 2017
Black House in Kent by AR Design Studio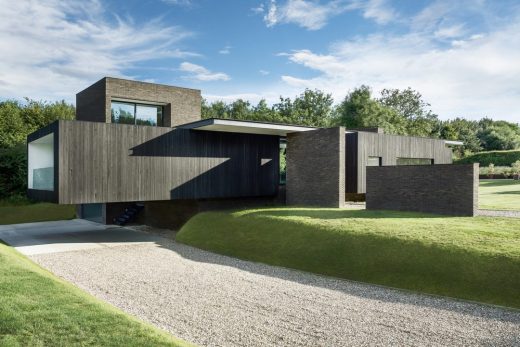 photo © Martin Gardner
Location: South East England, UK
Past RIBA Award Winners
RIBA Award Winning Buildings + Architects
RIBA Awards
English architecture designs – chronological list
Stirling Prize
RIBA Royal Gold Medal
Stirling Prize
Comments / photos for the Catch Beach House, Seasalter Kent welcome page