Content of the article
Veteran Ornge paramedics Andrew Whittemore and Matt Laverty are trained to provide patient care by plane or helicopter, but these days they operate on the road, while based in Chatham-Kent .
Content of the article
A temporary Ornge Critical Care land ambulance base, first established in Chatham-Kent on April 13, 2020 during the COVID-19 pandemic, is now officially permanent. This is the program's first expansion since its inception in 2008, adding to existing bases in the Greater Toronto Area, Ottawa and Peterborough.
The Chatham Daily News recently joined Whittemore and Laverty for a spin to see them in action.
Hours into their shift, a call comes in to transfer a heart patient from Windsor to a higher level of care in London.
They find out where they need to go and while on their way to pick up the patient, they receive an email with relevant details about the patient's condition.
Whittemore said that before they arrive at the hospital, an Ornge doctor will triage the call to determine the level of care required.
Content of the article
Depending on the situation, this may mean having a patient on a ventilator or having to administer painkillers or anesthetic.
"What we really are is an intensive care unit (ICU) or an intensive care transport team," Whittemore said.
The heart defect patient was very stable and just needed monitoring, but that's not always the case.
Whittemore said some patients "cling to life. . . they are seriously ill on ventilators and we transport these patients on our own.
Keeping people alive can be a daunting task as Ornge's ambulance rolls down the highway.
"Those who are really sick, it's a challenge to get them where you need them to get them the care they need," Whittemore said.
"The goal is to make a smooth transfer to the next destination," Laverty said. "Our goal is to get in and out within half an hour for very complicated patients, but sometimes that's not feasible because there's so much going on."
Content of the article
The Chatham base will be staffed 12 hours a day, seven days a week to improve Ornge's ability to provide patient care throughout Southwestern Ontario, including the London-Windsor corridor and Sarnia .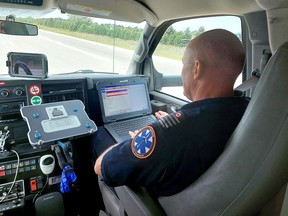 "A permanent base in Chatham-Kent is great news for patients and our hospital partners," said Wade Durham, Chief Operating Officer – Medical Operations. "This location has proven to be a needed resource in the healthcare system during COVID-19 and we look forward to continuing to collaborate with our local hospital and paramedic partners."
He added that Ornge thanks Chatham-Kent EMS, especially General Manager Donald MacLellan, "for working with and hosting Ornge's teams for the past two years at their headquarters."
Content of the article
Having highly trained paramedics with Ornge with the skills and specialist equipment to safely transfer critical patients to a higher level of care means medical staff do not have to be pulled from often short-lived emergency rooms. of staff.
Before Ornge existed, Whittemore said a hospital often had to send a doctor, nurse and respiratory therapist with a local ambulance to transfer a critical patient to a larger out-of-town hospital.
"For several hours the hospitals are losing these people," he said, adding that the EMS also got off from an ambulance.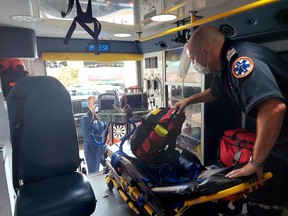 Whittemore said when Ornge first opened its temporary base in Chatham, some hospitals in the smaller area knew the service was out, but hadn't seen it.
He said they visited smaller hospitals in Chatham, Leamington, Wallaceburg and Newbury to explain their service.
Content of the article
However, that came as no surprise to Whittemore, who was part of the regional program when it started.
"A lot of hospitals didn't believe they could send some of these patients so sick without sending a nurse or a doctor or a respiratory therapist," Whittemore said.
He added that there were concerns about whether it was safe to do so.
"I think once you make a few calls and they see the care you're able to provide and do it safely, they love it now."
Laverty thinks the pandemic "has really provided an opportunity to show the versatility of this service."
He added that this was necessary to help transfer patients to free up space in intensive care units and critical care beds.
"I think at that time it was easy to demonstrate that this is a versatile resource for the region that could be used for regular daily needs in Southern Ontario," Laverty said. .